Aurora Fountain Pen Hidden Reservoir System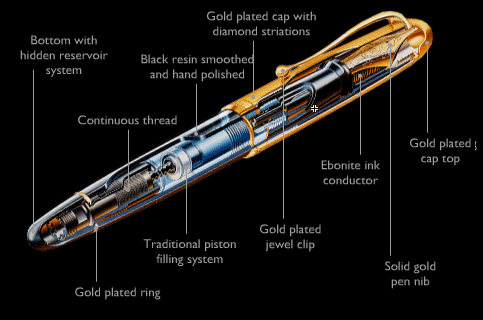 Check out this detailed diagram (courtesy of Aurora Pens, Italy) revealing the structure of an Aurora Fountain Pen.
An interesting and unique feature of many fountain pens made by Aurora is referred to in this picture: the hidden reservoir system. (However, it seems the diagram above should be pointing to the piston to indicate the hidden reservoir.) Instead of having a flat bottom as most pistons do, the bottom of the Aurora piston has a small indented chamber that holds extra ink. When your ink seems to have run out, turning the piston counter-clockwise all the way down to the feed will push the ink contained in this small chamber into the feed of the fountain pen. Aurora's handy hidden reservoir system gives you an extra page or so of writing before you have to refill!
Close-up of the feed on an Aurora fountain pen. There is a small "post" that sticks out.
A small reservoir hidden in the bottom of the piston contains extra ink.
Turn the piston counter-clockwise all the way down to the feed to force the extra ink into the feed.
The hidden ink reservoir is now empty, allowing you to write another page. A feature unique to Aurora fountain pens.